The Bremen Classic Motorshow has it all: More than 700 dealers and private sellers from ten countries offer cars, motorcycles, spare parts, restoration materials and memorabilia for sale.
You would like to participate as an exhibitor? Then please contact us by mail info@classicmotorshow.de. We will be happy to advise you!
3 Reasons
to become an exhibitor!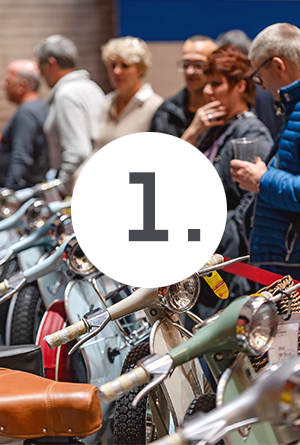 Traditional event kicks off the season
For 20 years, the Bremen Classic Motorshow has been a widely recognised and popular meeting place and the established signal for the start of the season.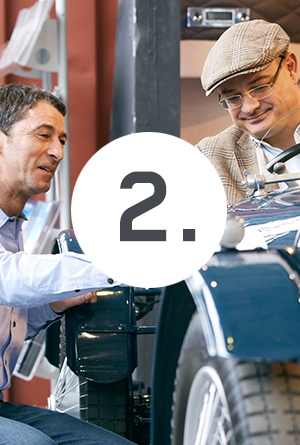 Value for money
Reasonable stand prices in a good location, personal and helpful exhibitor support service.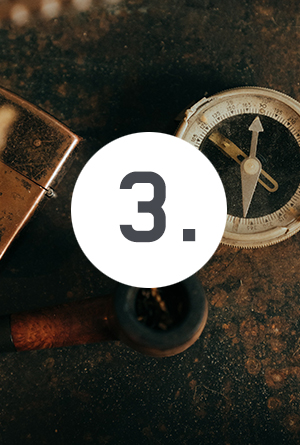 Number 1 in the North of Europe
North Germany's largest classic vehicle trade show with strong attendance from Scandinavian countries and the Netherlands.
Powerful engines,
clear endorsements
What our exhibitors and partners say
Im meinem persönlichen Oldtimer-Kalender gibt es seit Jahren viele Kann- und wenige Muss-Ereignisse – und einen einzigen 'Geht-nicht-ohne'-Termin: die Bremen Classic Motorshow. Ich kenne die Szene der deutschen Oldtimer-Messen seit mehr als 30 Jahren – aus der Perspektive des Ausstellers, des Besuchers und des Fachjournalisten. Aus dieser Erfahrung heraus kann ich nur mit voller Überzeugung sagen: Die Bremen Classic Motorshow ist mit Abstand die sympathischste Veranstaltung ihrer Art in Deutschland. Mit der langen Tradition der themenbezogenen Sonderausstellungen beweist die BCM mehr Szene-Interesse und -Kompetenz als jede andere Oldtimer-Messe.

Man spürt die Leidenschaft der Messemacher, die nicht nur kompetent Sonderausstellungen kreieren, sondern auch gezielt ihre Aussteller auswählen und diese auch betreuen. Hier treffe ich regelmäßig Kunden, Oldtimerenthusiasten, die von weitem angereist sind, weil sie neben der automobilen Vielfalt und Besonderheiten auch die lockere Atmosphäre über alle Messetage genießen.

Die BCM hat sich als feste Einrichtung zu Beginn der neuen Saison etabliert und ergibt neben einer guten und breiten Angebotspalette, jedes Jahr, ein stressfreies, langes Wochenende, das für Gespräche, Erfahrungsaustausch und Spaß, schon lange nicht mehr nur für Norddeutsche und Nordeuropäer eine wichtige Plattform darstellt.

Jahr für Jahr ist die Bremen Classic Motorshow mit ihren historischen PKW und Motorrädern ein Magnet für Enthusiasten, Fans und die breite Öffentlichkeit. Eine echte Bremer Erfolgsgeschichte – genau wie der Automobilbau in der Hansestadt selbst.
BECOME A
SPONSOR
Make your mark – with our highlights
The highlights of the BREMEN CLASSIC MOTORSHOW are always our special topics. You can sponsor a special show and get your name noticed.
Since 2003, the Bremen Classic Motorshow has been kicking off the classic vehicle season in Germany. Today, it is the number-1 event of its kind. Around 45,000 enthusiasts flock here every year.
For three days, some 700 exhibitors from various countries occupy the entire exhibition site to the delight of visitors from all over Germany, the Netherlands and Scandinavia – making the event a must for all lovers of classic cars and motorcycles.
Profit from this opportunity to put your brand in the headlights at the Bremen Classic Motorshow.
If you are interested, please contact us by mail ruge@messe-bremen.de or by phone at +49 421 3505 367
If you are interested, please contact us by
E-Mail
or by phone
+49 421 3505 367
.